Data Science Laboratory
The aim of the laboratory is to enhance the quality of scientific data analyses in research carried out at SCIENCE. This is facilitated through courses, workshops, collaboration with researchers, and counseling of students and researchers.
For students at SCIENCE
For PhD students at SCIENCE
For researchers at SCIENCE
For potential collaborators
Reserachers, institutions, and companies outside SCIENCE are welcome to contact us regarding potential collaborations at datalab@science.ku.dk. 
Contact us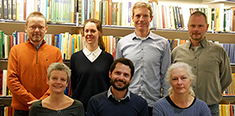 For PhD students and employees at SCIENCE: Contact us by sending an email with a brief description of your problem to datalab@science.ku.dk

Book us

Are you a Bsc/Msc/PhD student at SCIENCE? Book a 20 minutes consultation

Introduction to R
WORKSHOP: Practical introduction to the statistical software R aimed at PhD students and researchers at SCIENCE with little or no experience with R. Next course is expected to take place in August 2021. More info. Notice that HeaDS has a similar course with a few seats reserved for SCIENCE people.
Introduction to Python
WORKSHOP: The programming language Python is used in many active data science projects. The workshop gives an introduction and is aimed at PhD students and researchers at SCIENCE, possibly also MsC students (is space permits). Next course is most likely January 2021. Read more.
The Data Science Lab is funded by SCIENCE and hosted by the Departments for Computer Science and Mathematical Sciences.